Helen Bird
Austin, Texas, United States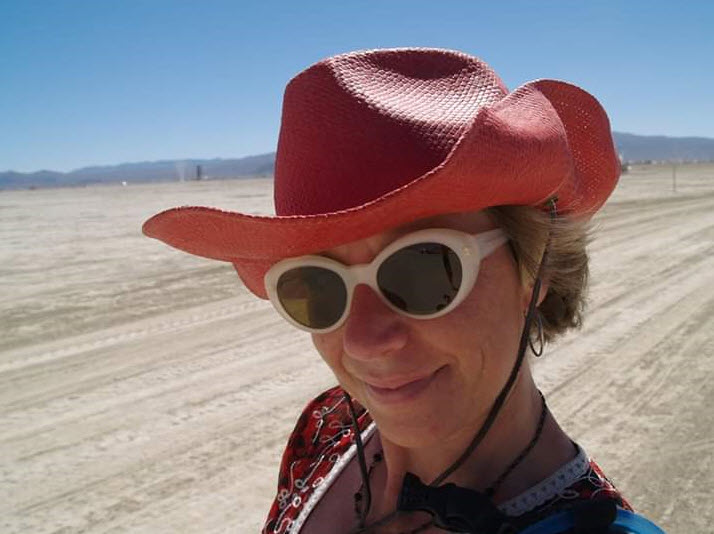 Artist Gallery
Tell us about yourself.
Having spent nearly 30 years as a registered nurse, I am a late comer to the field of art! I grew up in Europe immersed in history and art galleries, so I have always had an eye for the aesthetic beauty of say architecture, a painting or sculpture. I consider myself very lucky in that respect. My parents loved to take me to museums, and they were both avid photographers. My mother in particular encouraged me artistically with drawing, embroidery and crochet.

I obtained a BSN in England, graduated in 1987 and decided on travel nursing in the US, arriving in Florida in 1989. Travel has always been of great inspiration to me and my creativity.
What is your artistic style?
My artistic style is completely abstract, and I love a lot of color, geometric shapes and movement. My work has been likened to Peter Max who I was fortunate to meet at an art show in the early 2000s.
Where or who does your inspiration come from?
Different emotions motivate me to produce art. When illness and depression caused me to walk away from nursing ten years ago, art became a valuable therapeutic tool and essential in my recovery. Nowadays my art comes from a much more contented head and heart space. The stability and family that I now have has allowed me to create more vibrant art and design. Science ~ fiction and fact, nature and especially music are great influences on my creativity.
Describe your artistic approach or creative process.
My creative process is pretty simple. I start with a small square or circle in the very center of the page and work my way outwards. Sometimes I color as I go along and sometimes, I finish the piece in black only before filling in. Everything is freehand and I never sketch with pencil initially. I dive right in! The last step is to apply the fine metallic lines and complementary designs. I like to paint too but my real love is ink drawing.

Are you trying to communicate with your art?
I'm not really trying to communicate with my art per se, but I do believe that my art encourages the viewer to see alternative planes of existence or 'other worldly' travels consisting of rich colors, shapes and maps. I guess my primary aim is to delight the viewer, to stimulate curiosity and create joy.
Should art have a 'point' or 'purpose'?
Art definitely has a purpose in cultures and societies. I believe it is vital for our very existence and is a very important way in which we can learn about other people from around the world. Art transcends language and fills the void when there are no more words to speak.
Art can stir many emotions. It can delight, create humor, tell a story and disturb the viewer.
What are you currently working on?
I'm currently working on incorporating a touch of realism in the form of female silhouettes and I have branched out in to textile art, for example quilting and collage. Its definitely in its infancy, but here are a couple of pix of some new art works from mid-2021.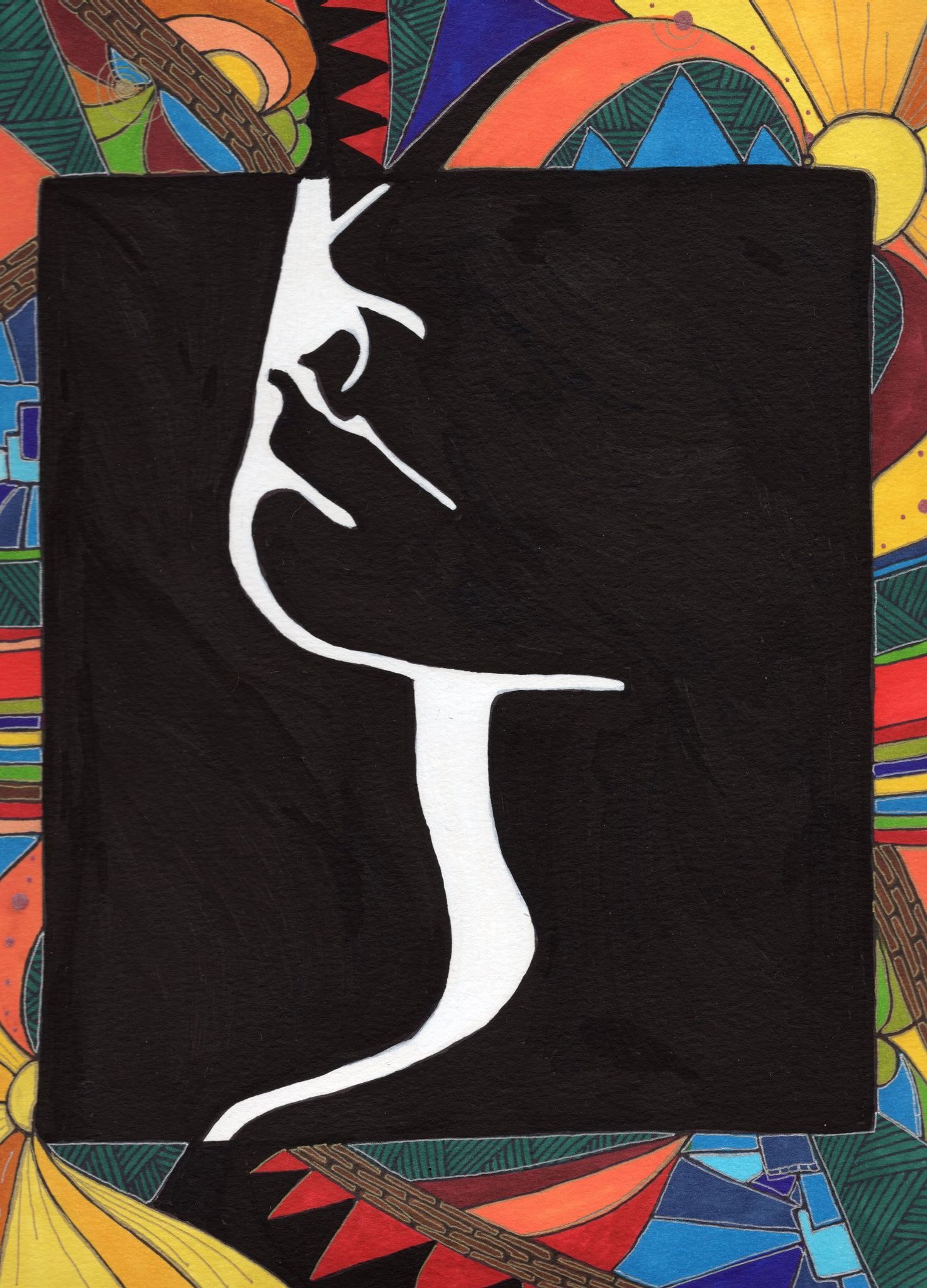 work in progress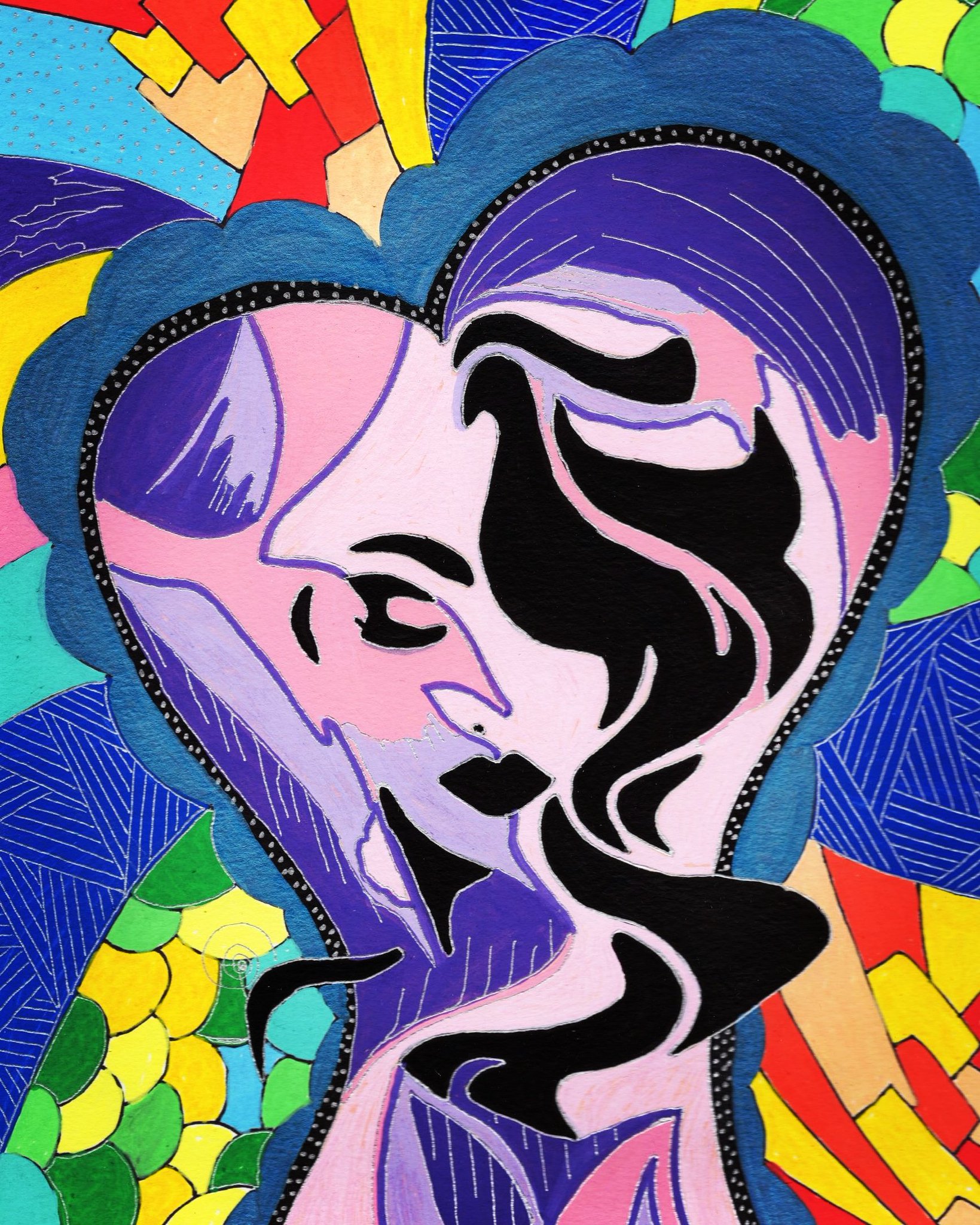 work in progress
What is your favorite piece?
I have many many favorite pieces and keep a digital file of my work on WordPress but one of my very best is 'The Message' (above) and was inspired by the appearance of a new crop circle in the UK. I found the design very curious!

Do you have other interests outside your art that influence your creativity?
Music is a vital component in my life and inspires my creativity. I feel I would be lost without it. My partner is a musician and songwriter and is definitely my muse! So, there is always some kind of music playing while I draw, be it him noodling on the guitar, the radio or some Nirvana tracks on YouTube!
I also love photography, especially street art and graffiti. It's something I have been doing for many years, all over the world. I'm very interested in science, nature and space exploration and enjoy scanning the night sky with my telescope.
What advice would you give to beginning artists?
My advice to beginners is to find something that you love to do even if it means living simply and making less money. Learn to budget. Money isn't everything and a lower paid gig that allows you less stress and more time off to get creative, is better.
I think my nursing career hindered my creativity for years because, even though I made good money, I was very stressed and too tired to make art on my time off. Other advice is to never give up and save all your work i.e. just because you think its not very good, it doesn't mean it is. We as artists are our own worst critics!
What is your dream for your art career?
My dream, one day would be to own a small art gallery, some little cool spot where I could showcase some newly found talent from the streets.